Paintings that have brought beauty and sunshine into people's homes all over the world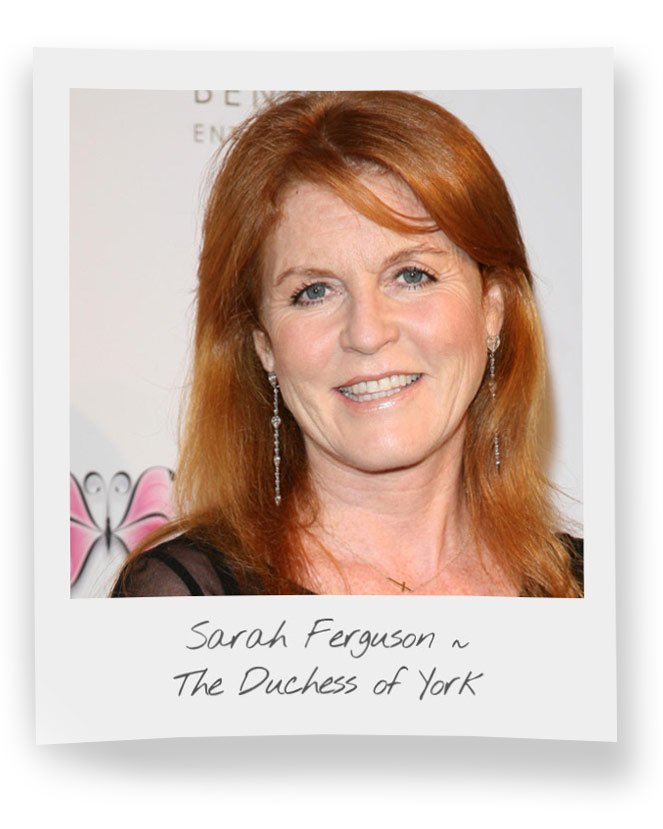 "Anna is such a talented artist. I'm delighted to own several of her beautiful pictures."
Sarah Ferguson, The Duchess of York
"Anna Mason is such a clever and beautiful artist. I would have a house full of her paintings if I could. They are magically therapeutic as well as joyfully pleasing to the eye."
Clare Balding ~ TV Presenter & Customer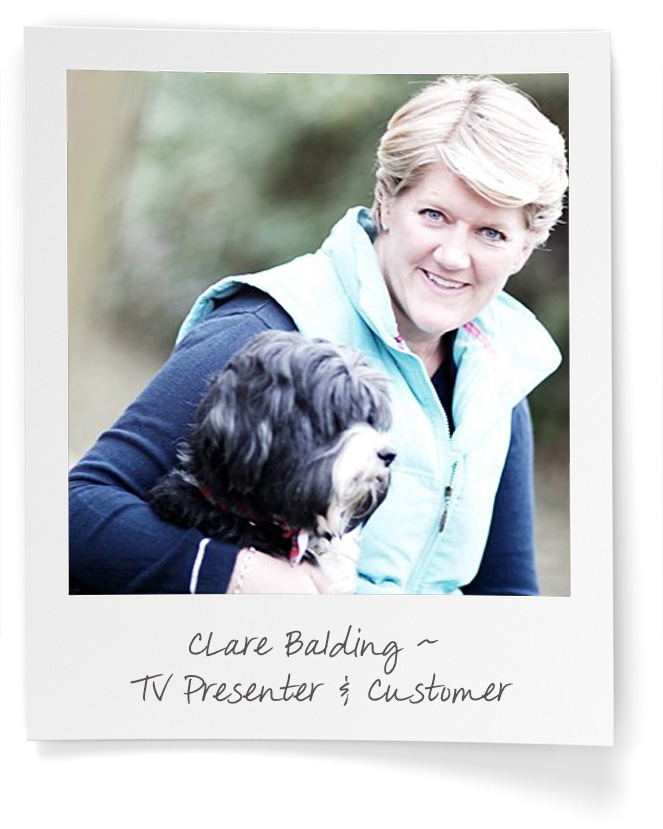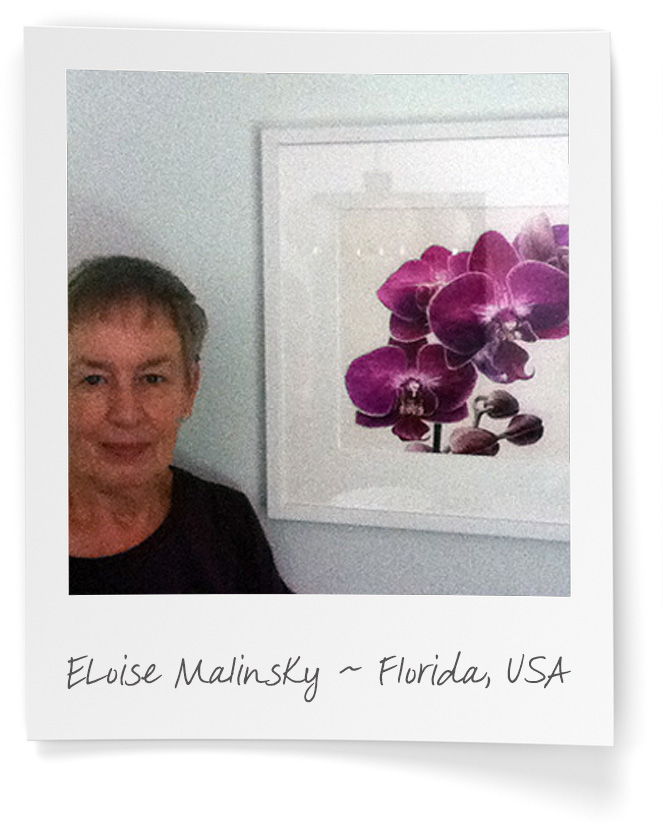 "I love flowers, I love sunshine, and I love both in my home.
Anna's work brings both into my life on a daily basis.
The best thing is the happy, yet restful feeling I get every time I view Anna's work on my walls. (I also started doing watercolor a few years ago. I will never be as skilled as Anna is, but she does provide me with motivation, for which I am grateful.)"
Eloise Malinsky, Florida, USA
"In 1981, I had the good luck of discovering a small red slipper orchid in the Eastern Andes and brought it back to the botanists at Selby Garden who kindly named it for me. Since then it has been used to develop ever brighter red and larger flowers. Anna's painting has been able to catch the essence and the beauty of all these cultivars and hybrids that are now in cultivation and being enjoyed today. When I saw it I had to purchase it!"
Libby Besse, customer and discoverer of Phragmipedium besseae, USA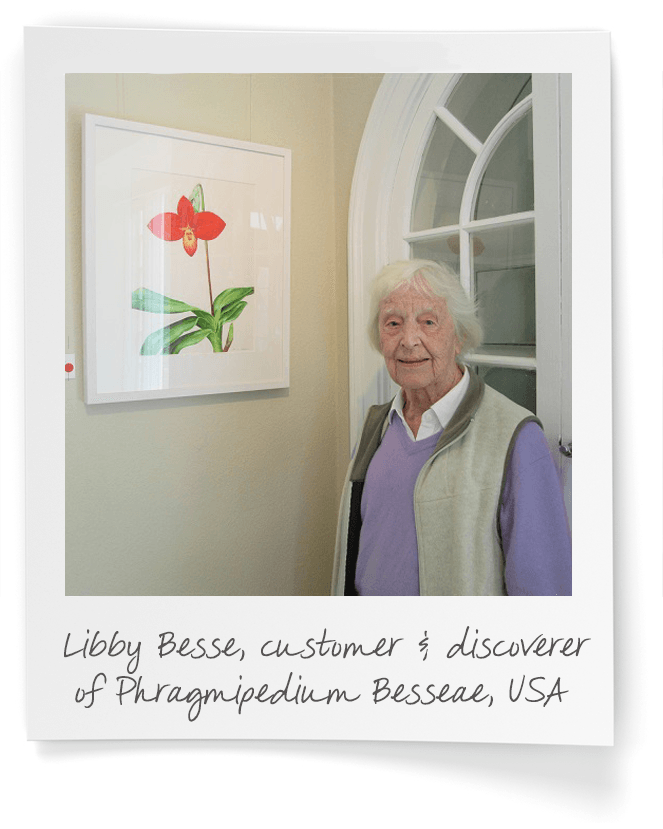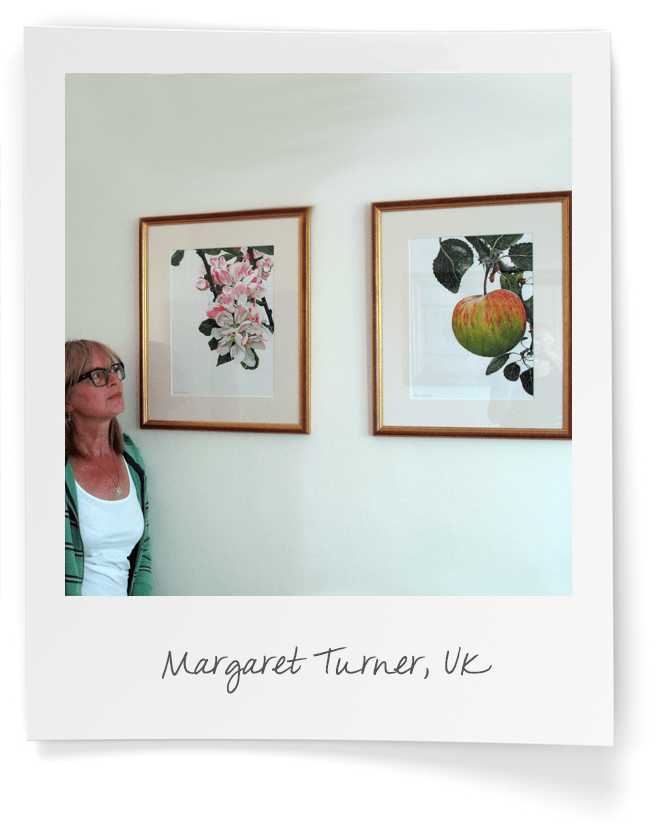 "Our treasured water colours were purchased from Anna at the NEC when she first exhibited and won the RHS award for her work.  After a tiring day wandering around the House and Garden show, my husband and I were on our way out – he went to the loo! – and I wandered around the art exhibitors stands while I waited for him.  I am eternally pleased that he needed that visit, or we may have never seen Anna's work and been able to have our pick from the wonderful 'James Grieve' series on show.  They are wonderful."
Margaret Turner, UK
"Now that we own three prints, I see them every day in different locations within the house. They constantly draw me to look at the exquisite detail and vibrancy of the compositions. I just love everything about them. 
Whenever we have visitors and they see Anna's work they always want a closer look. Their initial reaction is always the same…WOW! 
I often recommend friends to look at Anna's websites and see for themselves. They will never be anything but amazed."
Stella & Glynn Baker, Surrey, UK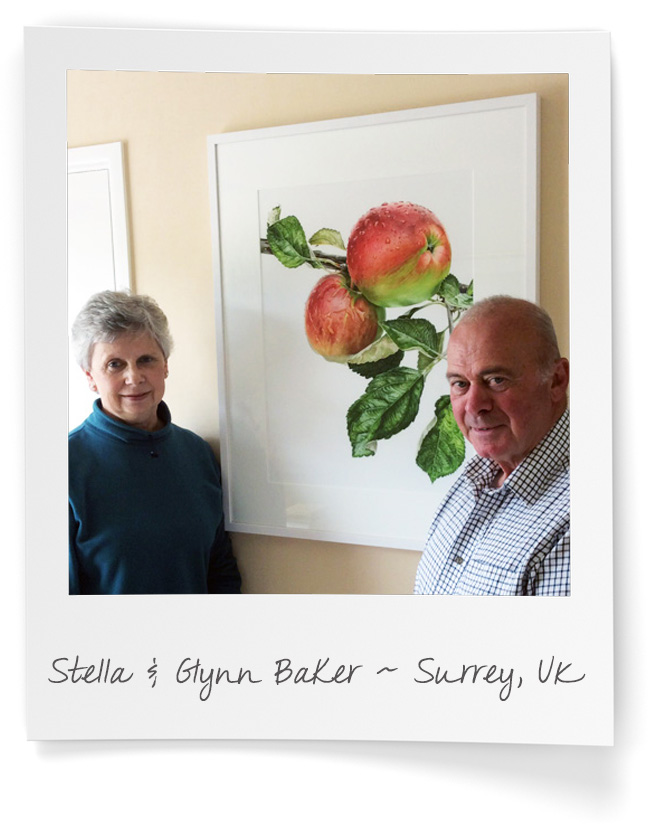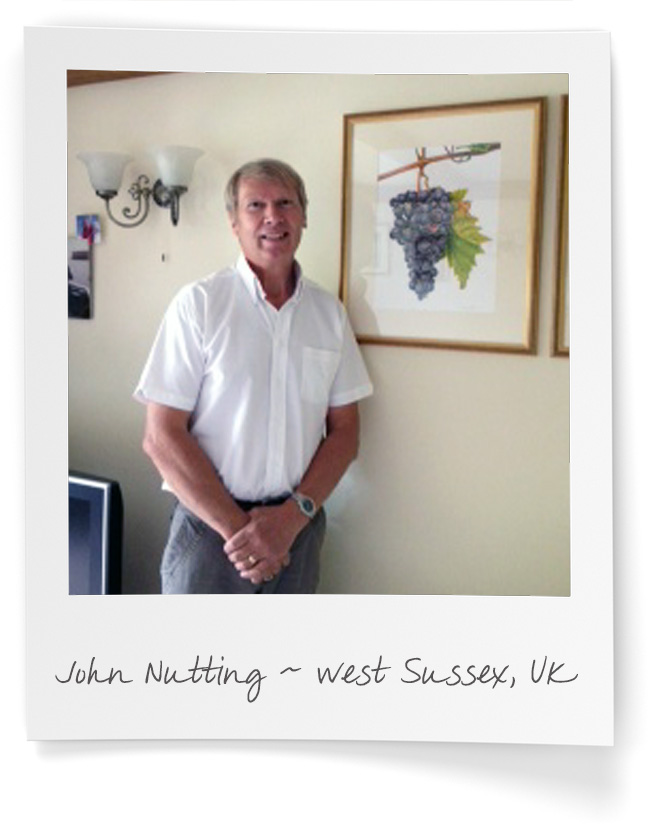 "I love this painting. It reminds me of wine tasting in French Vineyards. Anna has amazing skill. The picture is almost 3D and gives the impression you can see underneath individual grapes. I love talking to friends and family about the picture.
I am fortunate to own two other original paintings by Anna  and hope to commission a fourth – a very talented artist."
John Nutting, West Sussex, UK
"Anna Mason is one of the world's finest botanical artists. She is also calm and sensible and a very lovely person."
Stephen Bennett ~ Former Chelsea Flower Show Director, Royal Horticultural Society (& Customer)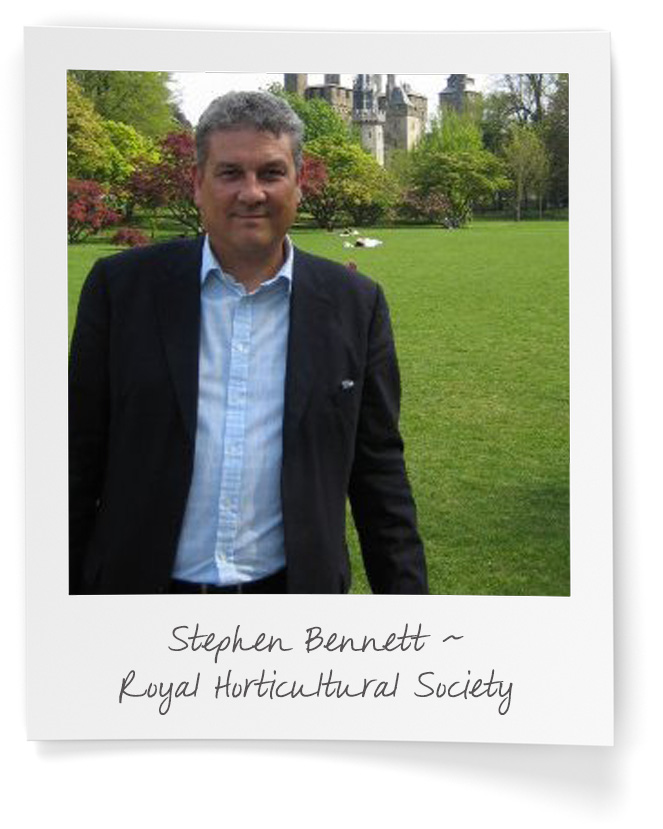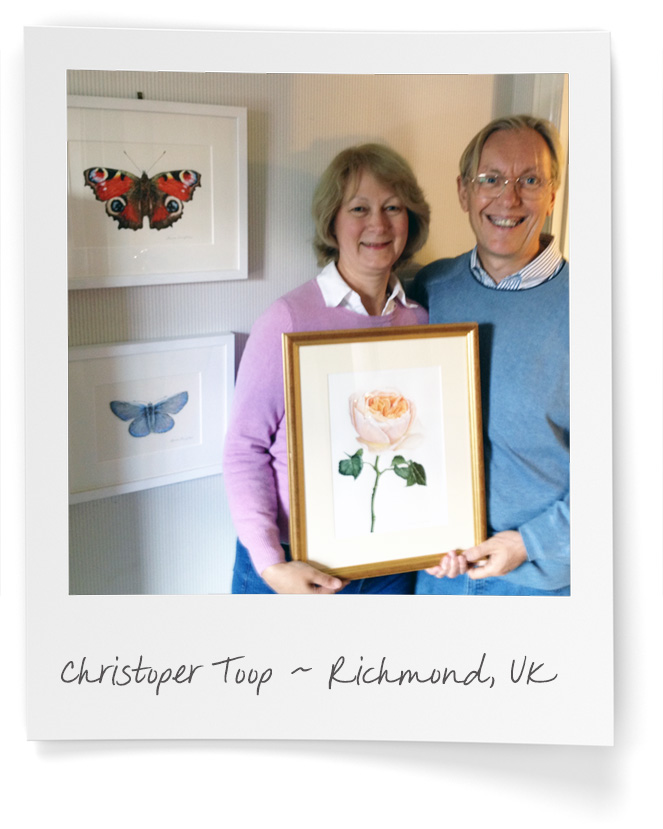 "We love Anna's work, having seen it exhibited both at Chelsea Flower Show and in the Shirley Sherwood Gallery at Kew Gardens.
Anna's work is of top quality and her love of her subject and her skill are evident in every picture.
We bought two butterfly paintings because it is most unusual to see such quality in pictures of this subject. The texture and iridescence of the butterfly wings is quite beautifully represented.
It is a pleasure to have artwork of such quality and of such lovely subjects. They remind us of happy summer days."
Christopher Toop, Richmond, UK
"Anna's paintings have a vibrancy, whilst perfectly capturing the delicacy and detail of the roses."
David Austin Roses ~ Rose Breeders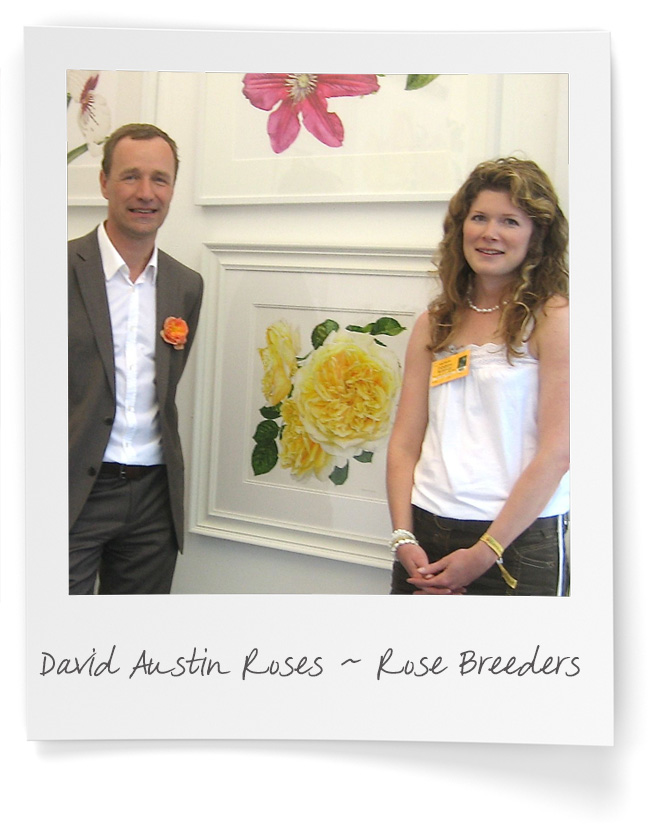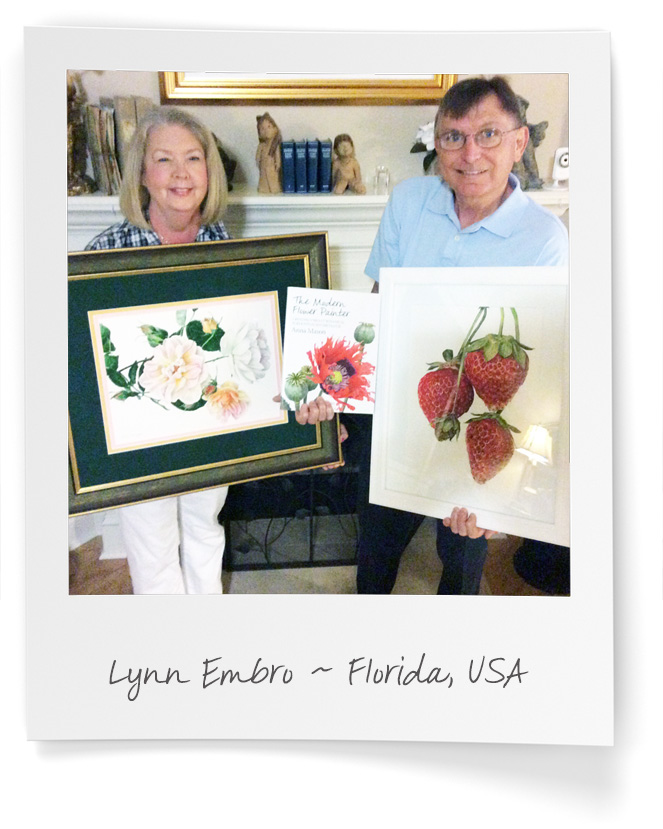 "I purchased an original painting through the website and had not previously seen work at an exhibition.  Purchasing an original piece unseen is tricky. However, when it arrived all of my reservations were wiped away! To be able to see up close and personal the original artwork of an artist is incomparable! To own the work of artists whose work you love gives us personal joy and pride in our surroundings. Anna's artwork graces our home and adds beauty, inspiration and creativity to our lives! It is a statement of the beauty and peace that we seek in our own lives."
Lynn Embro, Florida, USA
"I think Anna's work is outstandingly realistic and a beautiful style. I commissioned a painting in memory of my Granddad, to whom I was very close. He was a keen gardener, which is something he passed on to me. The painting reminds me of him and fond memories of running round his garden as a child, and learning how to grow vegetables. It makes me smile every time I see it."

Claire Partridge, Hampshire, UK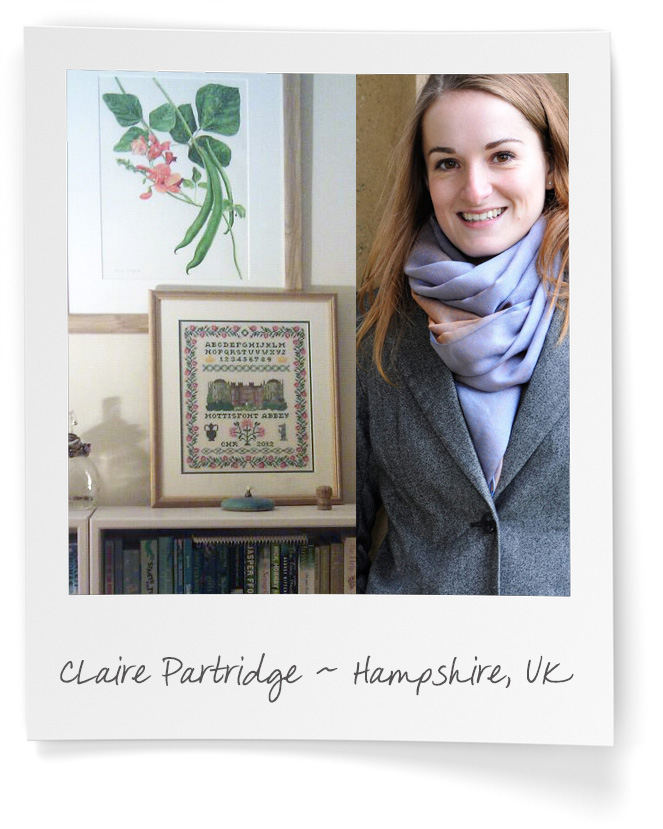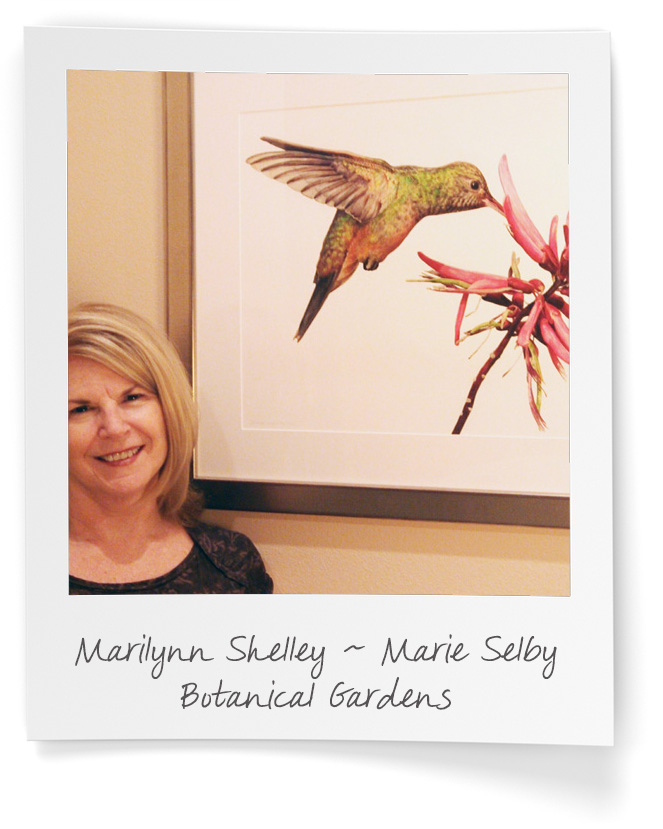 "When I saw the image of your original "Buff-bellied Hummingbird on Coral Bean" on my computer screen, it took my breath away! I had to have a print.  Such a beautiful image of my favorite bird and one of my favorite plants. I still can't believe it was your first bird painting . . . incredible! Thank you for brightening Selby Gardens' museum galleries in winter 2013 with your fresh and joyful take on botanical art. Your abundant creativity and natural artistry is clearly evident in your beautiful and expressive work. So glad you quit your 'sensible' job!"
 Marilynn Shelley ~ Former Manager, Exhibits, Marie Selby Botanical Gardens
"Seven years ago on a visit to Chelsea flower Show  I was completely bowled over by a young artist's paintings. It was then I decided that I would buy Anna's work and join her painting classes to enhance my love of flowers and nature. I have not been disappointed and my husband and I are reminded every day and night of the wonderful gift of nature throughout the year. Thank you Anna."
Geraldine Watts-Davies, Chichester, UK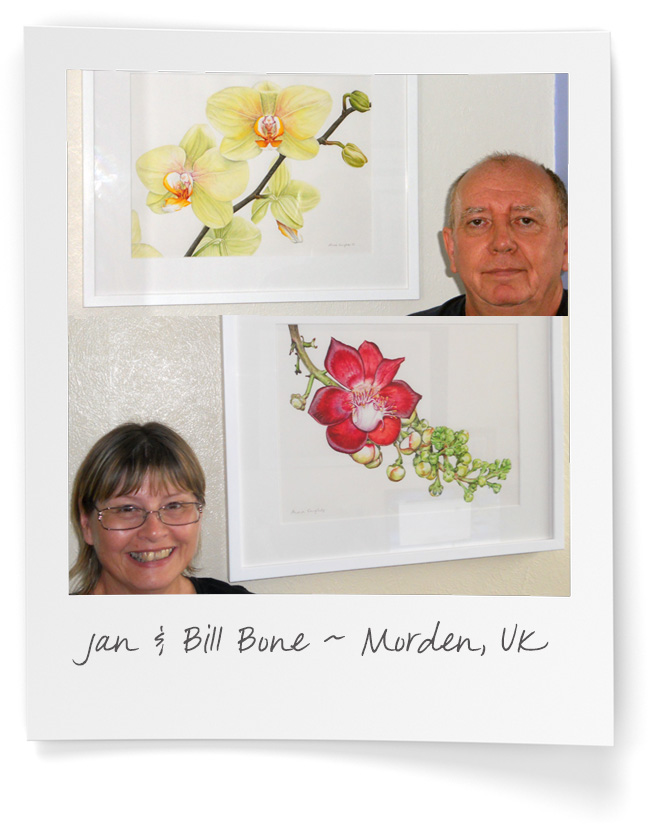 "We are lucky to have 4 originals, hung in various positions within the house. they bring us enjoyment, and rekindle memories-especially the commissioned piece. It's like looking at  real flowers all of the time-even when its snowing outside!"
Jan & Bill Bone, Morden, UK
"I had no hesitations about buying Anna's paintings.  I had a new build house with magnolia walls that badly needed a splash of colour to brighten them up!
The artwork brings such a beautiful focal point to our lounge with its vibrancy of colour and incredible detail. It brings the outside right into our home to be admired and enjoyed by all who visit.
The artwork provides such pleasure and inspiration, knowing the work which has gone into it.
It shows Anna's wonderful natural talent. As she is self taught, it illustrates how incredible raw talent can be.  I feel the artwork is one of quality, beautifully framed and a sound investment."
Carolyn Wilson, Storrington, UK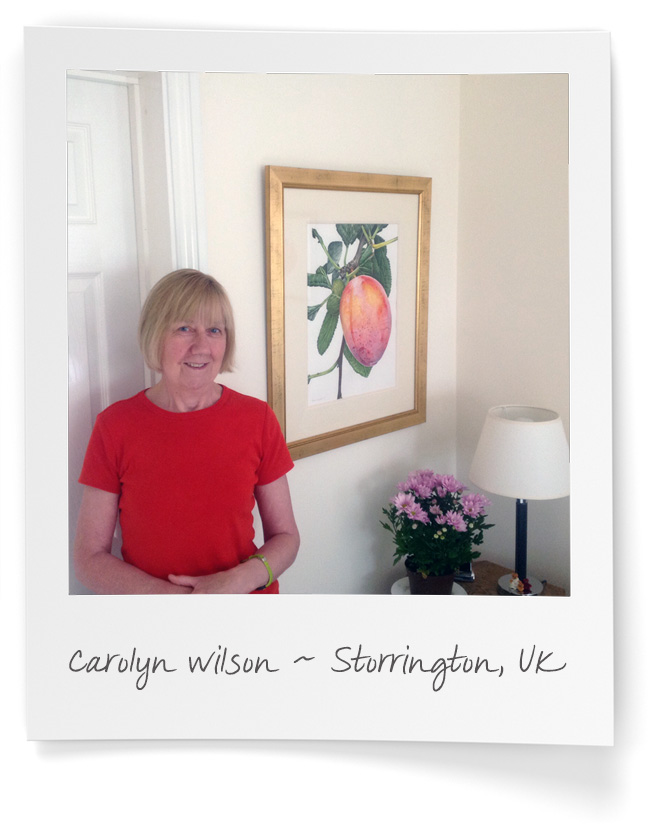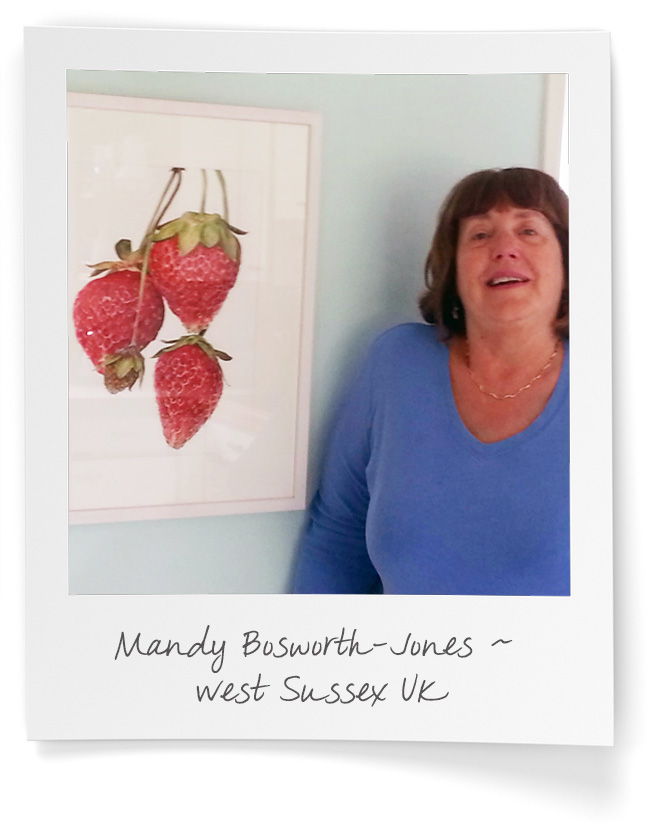 "This is a wonderful picture of strawberries, which I have hung in my kitchen. Anna has the gift of showing the luscious beauty of the fruit and it makes my mouth water. We think it makes us eat more fruit! 
We have since acquired several more of Anna's paintings and they give us a huge amount of pleasure. "
Mandy Bosworth Jones, West Sussex, UK
"My Plum is so much of my daily life as it is hanging right next to my desk, I love it! It's spatial, every time I look at it it takes me on a trip to another planet. Anna's made her artwork contemporary and therefore exciting and avant-garde…………bigger is definitely better. I am a real fan!"
Barbara King, Monaco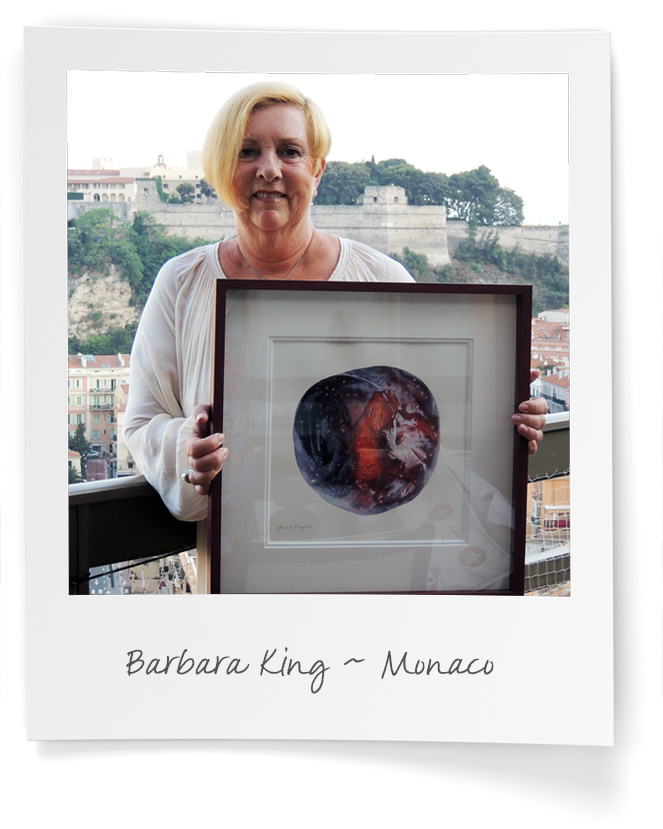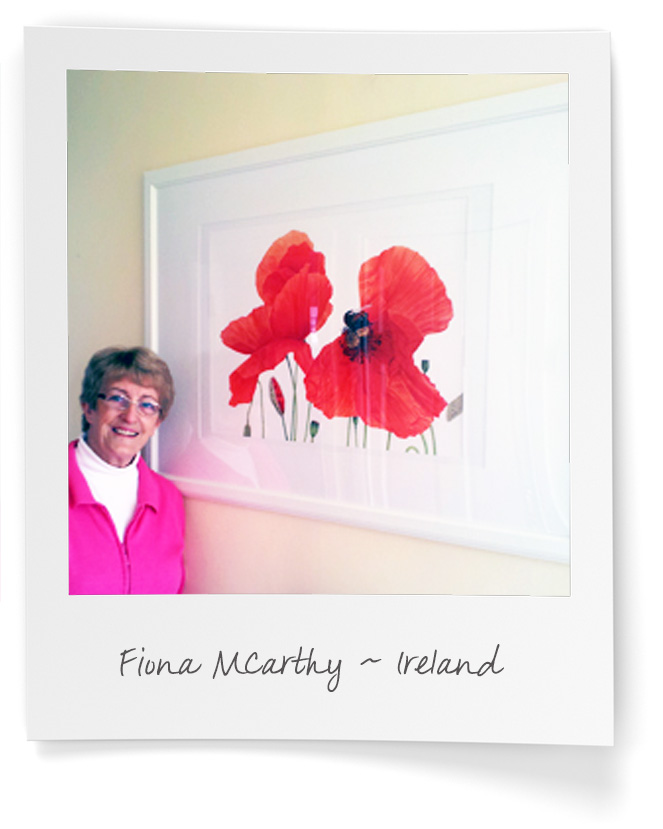 "Here's Mum with her gift. She absolutely loves her print. Like me she is in awe at Anna's talent. We can highly recommend Anna's art to enhance people's lives!"
Fiona McCarthy, Ireland
"The best thing about owning this limited edition is being able to enjoy it every single day & it's vibrancy never fades – it looks just like the day my partner bought it for me – I never tire of gazing at it. Its vibrancy and colour always make my bedroom a bright jolly place. It always makes me smile looking at its beauty."
Jo Woolnough, Surrey, UK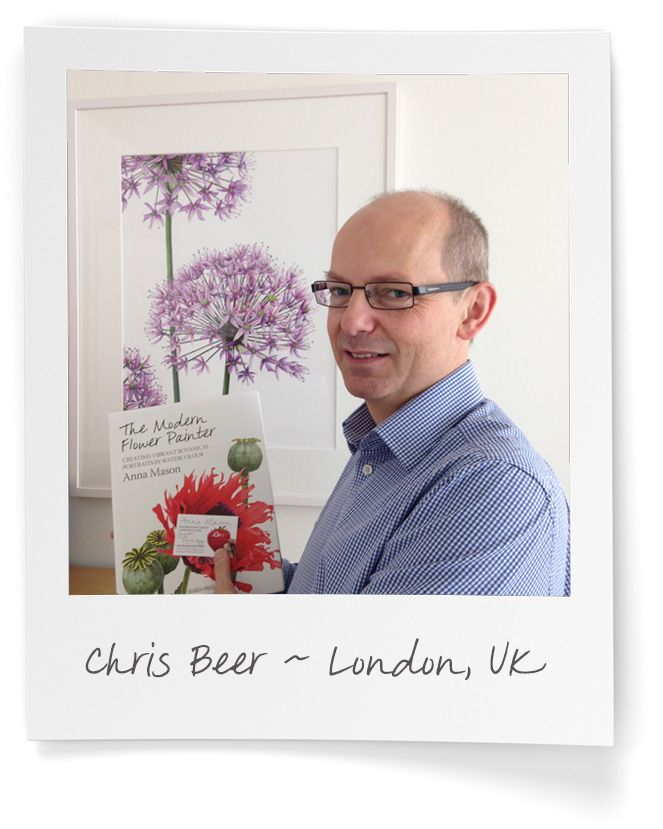 "We have the Allium print and 3 smaller limited edition prints. They "live" in our bedroom and are calming and peaceful. We get pleasure each time we see them. They bring us joy."
Chris Beer, London, UK
"Anna's art work brings me great joy and the piece I bought brings memories of when I bought it -the start of my wife's pregnancy – and all the joy that brought me in my life at that time and after."
Tim Zahoui, Shoreham, UK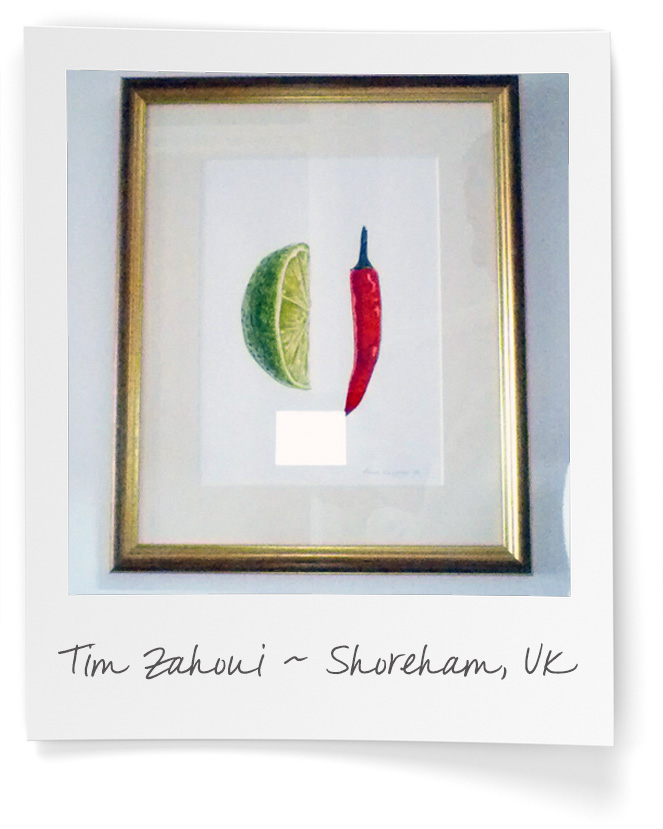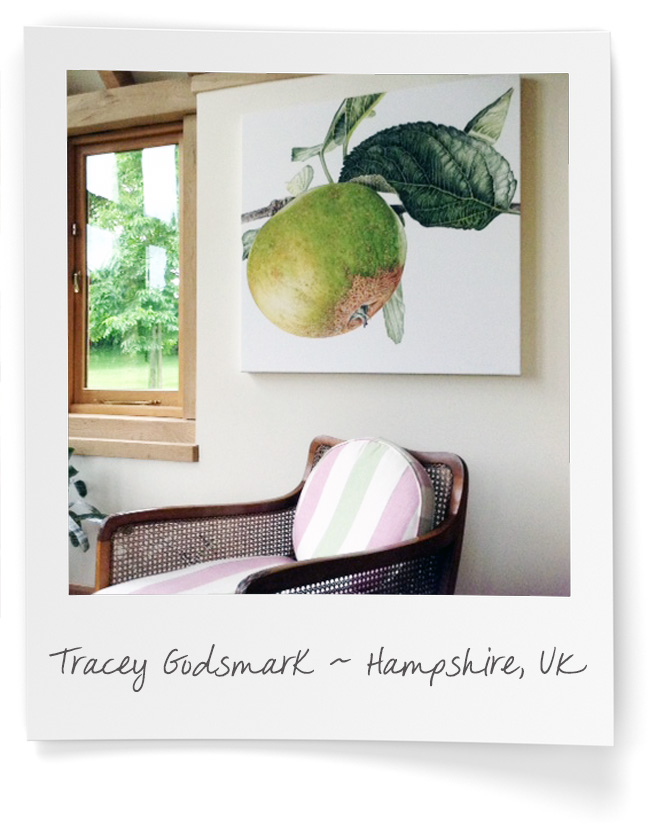 "Anna Mason has an artist's eye for fresh, dramatic work. What she produces is so utterly convincing, you can almost smell her flowers or taste her fruit."
Tracey Godsmark, Hampshire, UK
"Anna's paintings are a striking blend of vibrancy, sensuality and skilful composition."
Nature in Art Museum ~ Gloucester, UK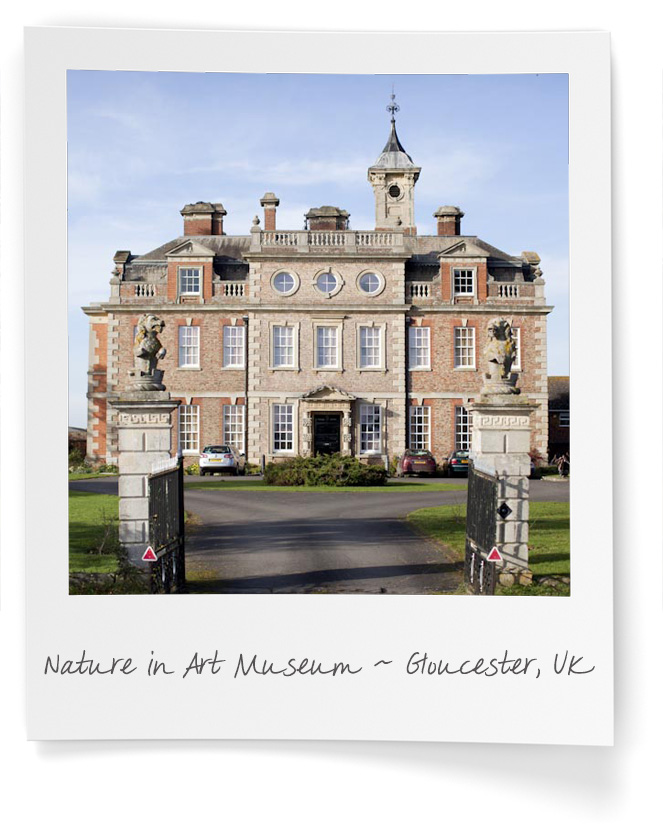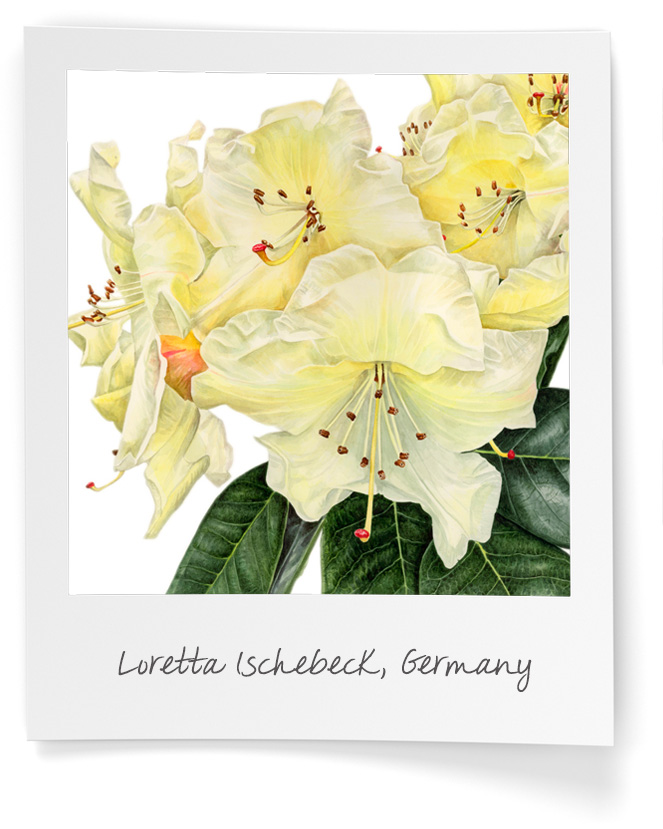 Your beautiful work arrived, we are deeply touched, it is splendid and tender, and luscious, all at the same time.
Loretta Ischebeck, Germany
"My favourite is Anna's apple painting followed closely by the strawberries. When I went for chemotherapy and radiotherapy at charing cross hospital I took a card of the apple or strawberries with me. I found comfort and beauty in these drawings at a time when I was very frightened about my life. I found joy and strength in looking at the pictures."
Kyria- Josephine  Sewell, London, UK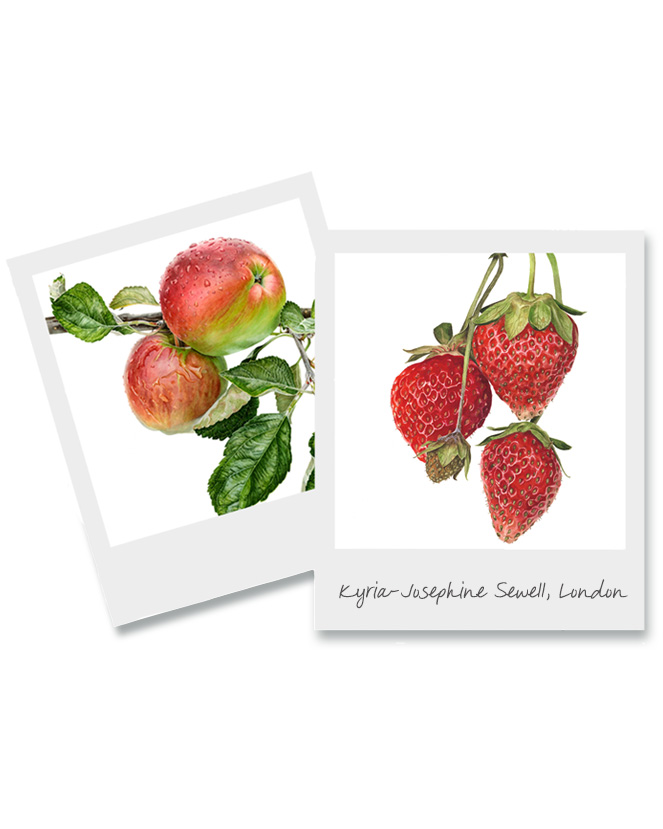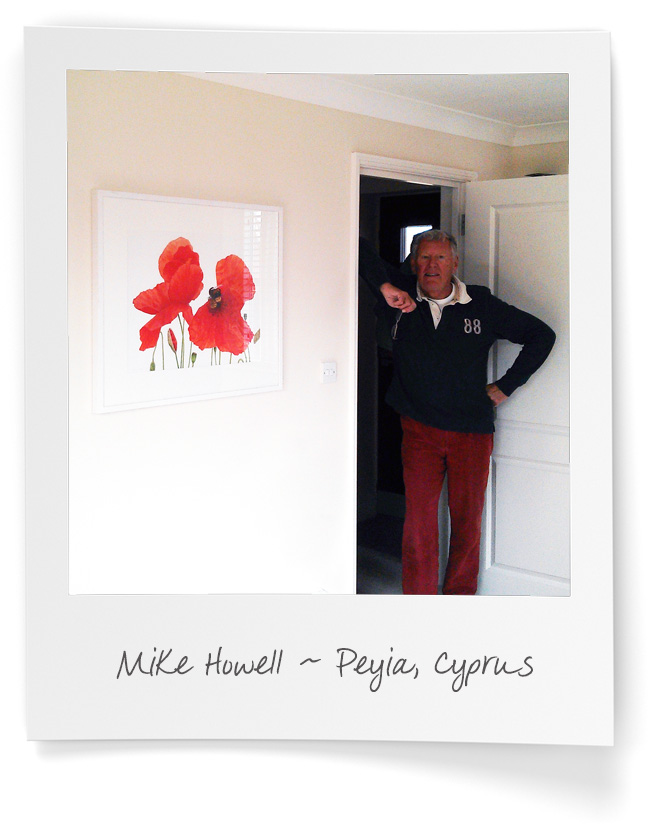 "I first encountered Anna through her picture of the strawberry and I was hooked from that moment on. The Poppy picture has not disappointed! The poppy picture conjures up all sorts of emotions and brings brightness/happiness to the room. The detail is just amazing and each time you look there is something else to absorb and admire.cI find the passion that comes alive through Anna's paintings incredible and I would love to be able to own more."
Mike Howell, Suffolk, UK